Description
The Wilderness is a superb historic estate that was renovated and greatly expanded in the Victorian era to the gorgeous mansion it is today, with opulent amenities, nestled between Historic Ellicott City & Historic Catonsville on a 2 acre lot in a private wooded setting. Currently a residence and B&B, it is a spacious 3 story home with 2 staircases, 9 bedrooms, 4 kitchens (including a large gourmet kitchen), 6 bathrooms, 5 fireplaces with ornate mantels, multiple parlors, a gorgeous formal dining room and a bold wrap around porch with nature views. This is an exquisite Victorian jewel surrounded by mature woods in Patapsco Valley State Park, close to Baltimore & DC, yet a world away.
The Wilderness' stately exterior with mansard roof is only a hint of the elegance inside. Gorgeous period details like "jib" doors (door/windows) opening to the formal wrap-around porch, pocket doors, a soaring cupula, and luxurious heart pine hardwood floors can be found throughout the home. Embrace the pure splendor of a by gone era in this Victorian estate. Cozy up with a good book by one of the five ornate fireplaces or relax in one of the comfortable sitting rooms. Invite friends and guests to the elegant dining room for a delicious meal prepared in the spacious and well equipped gourmet kitchen and afterward, enjoy cocktails and conversation from your choice of exquisite parlors. A main level bedroom suite with a sitting room can be easily transformed to a den & library, and the two upper levels of the property, include en-suite bedrooms, multiple kitchens & apartments, with access from main & back staircases. If you can dream it, this versatile mansion can realize it. The expansive, wrap around porch and wooded acreage make this stunning property a secluded oasis for entertaining and everyday living.
ROOMS: 
Main Floor
Entry Foyer 24′ x 9′ – Wood floor, ornate staircase, vestibule, closet.
Front Parlor 19′ x 17′ – Wood floor, fireplace with ornate mantel, pocket doors to Rear Parlor, door to porch, 3 windows.
Rear Parlor 17′ x 14′ – Wood floor, fireplace with ornate mantel, ceiling fan, 3 "jib door/windows" to porch.
Bedroom 1 (en suite) 16′ x 14′ – Wood floor, ceiling fan, pocket door to Sitting Room, "jib door" to porch, 3 windows.
*Sitting Room 16′ x 9′ – Wood floor, door to Entry Foyer, 1 window.
*Bathroom – Wood floor, shower.
Powder Room 12′ x 6′ – Wood floor, wainscot, closet, 1 window.
Dining Room 19′ x 16′ – Wood floor, hanging lamp, chair rail, fireplace with ornate mantel, swing door to Kitchen, 3 windows.
Kitchen 16′ x 16′ – Wood floor, gas range, center island with sink, wainscot, door to side screen porch, door to back staircase, 3 windows.
Screen Porch
2nd Floor
Landing 23′ x 6′ – Wood floor, closet.
Bedroom 2 19′ x 14′ – Wood floor, fireplace with wood mantel, closet, pass to Bedroom 3, door to Bathroom 1, 2 windows.
Bathroom 1 9′ x 7′ – Vinyl floor, bathtub, 1 window.
Bedroom 3  17′ x 17′ – Wood floor,  2 closets, pass-door to Bedroom 2, door to Bathroom 1, 3 windows.
Hall Closet 14′ x 6′ – Wood floor, 1 window.
Bedroom 4 (en suite) 19′ x 14′ – Wood floor, closet, 3 windows.
*Sitting Room 14′ x 12′ – Wood floor, chair rail, bay window.
*Bathroom 2 10′ x 5′ – Wood floor, bath tub, 1 window.
Bedroom 5 18′ x 13′ – Wood floor, closet, 1 window.
Bedroom 6 18′ x 16′ – Wood floor, closet, 2 windows.
Bathroom 3 14′ x 6′ – Wood floor, wainscot, bath tub, 1 window.
Kitchen 17′ x 11′ – Wood floor, gas range, closet, 2 windows.
3rd Floor
Landing 14′ x 6′ – Carpet, closet, door to back staircase.
Bedroom 7 17′ x 12′ – Wood floor, closet, pass to Bedroom 8, 3 windows.
Bedroom 8  19′ x 17′ – Wood floor,  closet, 3 windows.
Bathroom 4 14′ x 5′ – Wood floor, claw foot bath tub, 1 window.
Living Room 20′ x 18′ – Carpet, ceiling fan, 3 windows.
Kitchen 13′ x 12′ – Wood floor, gas range, 1 window.
1 Bedroom Apartment – Kitchen, Living Room, Bathroom, door to back staircase.
HISTORIC SIGNIFICANCE
The Wilderness is significant for its architecture, as an example of a large country house embodying the distinctive characteristics of turn-of-the 20th-century eclecticism in its combination of elements of the Queen Anne and Colonial Revival styles. The building expresses a Colonial Revival feeling in its rectangular massing and in its exterior and interior detailing, in combination with Queen Anne-inspired multiple roof forms~ It is a notable landmark in its isolated, undeveloped setting in southwestern Baltimore County. The Wilderness derives additional significance from its association with Baltimore merchant and philanthropist Francis Cumberland Dugan II, (1830-1914) under whose ownership the house acquired its present appearance. Dugan established his hardware dealership in Baltimore in 1852; still active in business up to his death in 1914, he was then the oldest merchant in the city. He was one of the incorporators of St. Mary's Industrial School in 1866, and served on the board of directors of St. Vincent's Orphan Asylum and the Metropolitan Savings Bank. He remodeled The Wilderness in 1899 and maintained it as a summer residence.
more…
BRIEF HISTORY
The two-story stone house which is incorporated within The Wilderness was constructed c. 1800 by John Russell. In 1827, Russell sold the property comprising 100 acres to James Anderson Buchanan. In 1829 Buchanan sold the property to his widowed mother in-law, Isabella Nelson, who bequeathed it in 1875 to her granddaughter Harriet Buchanan Dugan.
The following biographical information on Francis Cumberland Dugan II is extracted verbatim from Carlton Coulter, Geneology of the Coulter Family," manuscript on file at the Maryland Historical Society: Francis Cumberland II, the eldest son of Frederick James Dugan and his wife Emily Chatard, was born at the family residence on Exchange Place in Baltimore on 29 July 1830. He never used his given name but was known as Cumberland. He was educated in a parochial school and at Mt. St. Mary's College, Emmitsburg, Maryland. In early youth, he entered business life and in 1852 began his career as a merchant dealing in hardware and machinist supplies. He entered partnership with his friend Courtney Jenkins and the firm of Dugan and Jenkins was established at 21 South Charles Street.
On 16 September 1856, he married Harriet Anderson Buchanan.
The Dugans first lived at 77 Liberty Street, between Lexington and Fayette. Later they moved to Hamilton Street between Charles and Cathedral, living here until 1865, when they moved for a year to the Hollis Buchanan (not a relative) house on Bellona Avenue.
In 1875, Cumberland Dugan and his wife brought suit to attain possession of "The Wilderness" in Baltimore County, which Mrs. Dugan claimed under the will of her grandmother, Isabella Nelson. The case made legal history in Maryland, as· the decision did much to limit the application of the "Shelley Case" to the inheritance of land in the State. By a decision of the Court of Common Pleas, rendered in 1875, and confirmed two years later by the Maryland Court of Appeals, the property reverted to Mrs. Dugan. In 1899, the original house, which was then almost 100 years old, was partially pulled down, restored and enlarged. The restoration was completed in 1900.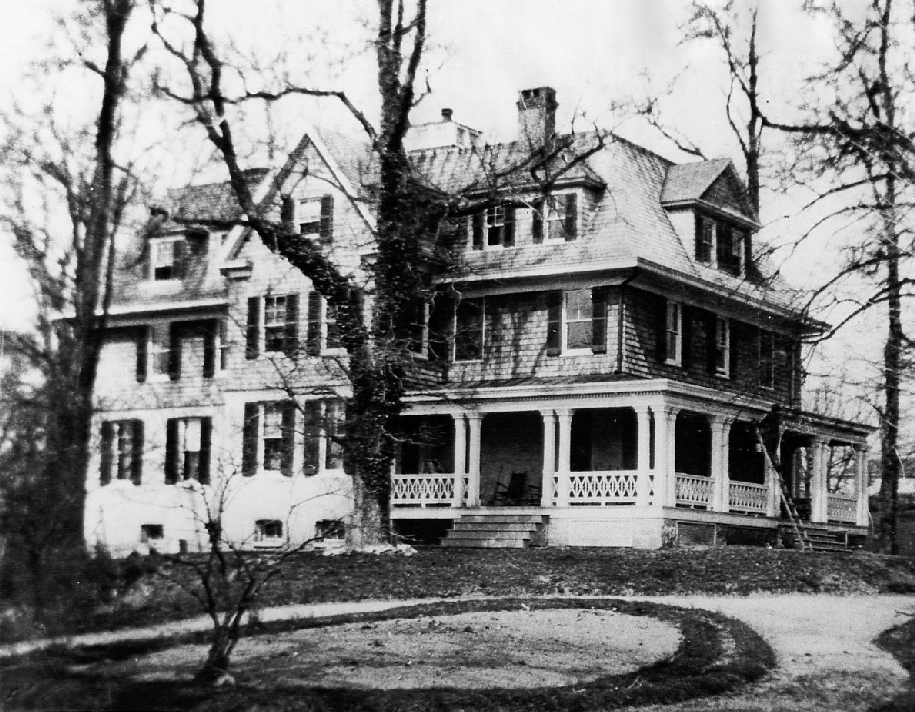 From 1852 to almost the day of his death, Cumberland Dugan was active in the business life of Baltimore. The firm of Dugan and Jenkins continued until 1857, when it was dissolved and Cumberland Dugan established the firm of Cumberland Dugan and Company Hardware Merchant.
Not only was Cumberland Dugan a prominent merchant of Baltimore, but at the time of his death, he was the oldest active businessman in the City, one of the most widely-known and one of the most popular. His friend W. W. Spence was slightly older, but had long since retired from business. At the age of 83, Cumberland Dugan daily walked from his house on Lanvale Street to his off ice on Howard and Barre Streets, a distance of over two miles.
He was eighty-four at the time of his death. Until his last illness, which began two weeks before his death, he took an active part in the affairs of his firm.
more…
THE WILDERNESS B&B
Two centuries of history await you at The Wilderness; historic preservation and hospitality award winning B&B providing suites for discriminating guests. Surrounded by woodland tracts of The Patapsco Valley State Park, this Victorian era summer mansion has been restored to its country manor atmosphere, and offers unequalled peace and privacy.
Spacious suites, comfy beds, fabulous baked goods and nearly total seclusion give guests the sense of being "away from it all" although only minutes from historic Ellicott City and Catonsville, and only 15 minutes from Baltimore's Inner Harbor/BWI airport.
The Wilderness is like no other B&B in the area — Come out for a visit and get lost in your dreams…
more…
LINKS
The Wilderness B&B – Inn Website
The Wilderness BA-2227 – National Register of Historic Trust
The Wilderness – Maryland Historical Trust
Patapsco Valley State Park – Official Website
Old Historic CatonsvilleDistrict – Nearby Catonsville Historic District
Ellicott City Historic District – Nearby Ellicott City Historic District
Catonsville, Maryland – Chamber of Commerce