Description
Historic William Chapline House c.1789
Own a piece of Civil War History!
This beautiful, historically significant home in Sharpsburg, Maryland near Antietam National Battlefield, is steeped in civil war history and has been lovingly restored.  Zoned for residential & commercial use, this versatile 4BR & 3BA home includes a converted 2 story brick stable/shop/store and is well placed at the west corner of the of Sharpsburg's historic town square.
Featuring gorgeous original wood floors, exposed interior brick walls, and 7 fireplaces with original wood mantels, a glass atrium, as well as, tastefully renovated bathrooms & a stunning kitchen with a center island and granite counter tops, this is a unique opportunity to own an extraordinary piece of 19th century history. Dr. John Hartman, in 1796, tended to his patients in the east parlor until his passing in 1819, then Philip Myers purchased the home and operated his store and tavern. In 1850, Dr. Augustin Biggs purchased the home and opened his medical practice & apothecary, and after the 1862 Battle of Antietam, Dr. Biggs treated many of the casualties in his home, and after the war, he planned, designed and ran Antietam National Cemetery. Dr. Biggs continued practicing medicine from his home until he passed in 1889.
Many fine stewards have walked these same heart of pine floors, worked and entertained in these spacious parlors, and enjoyed the historic Sharpsburg community lifestyle.
This is a home of rare & beautiful distinction, close to DC & Baltimore, yet a world away.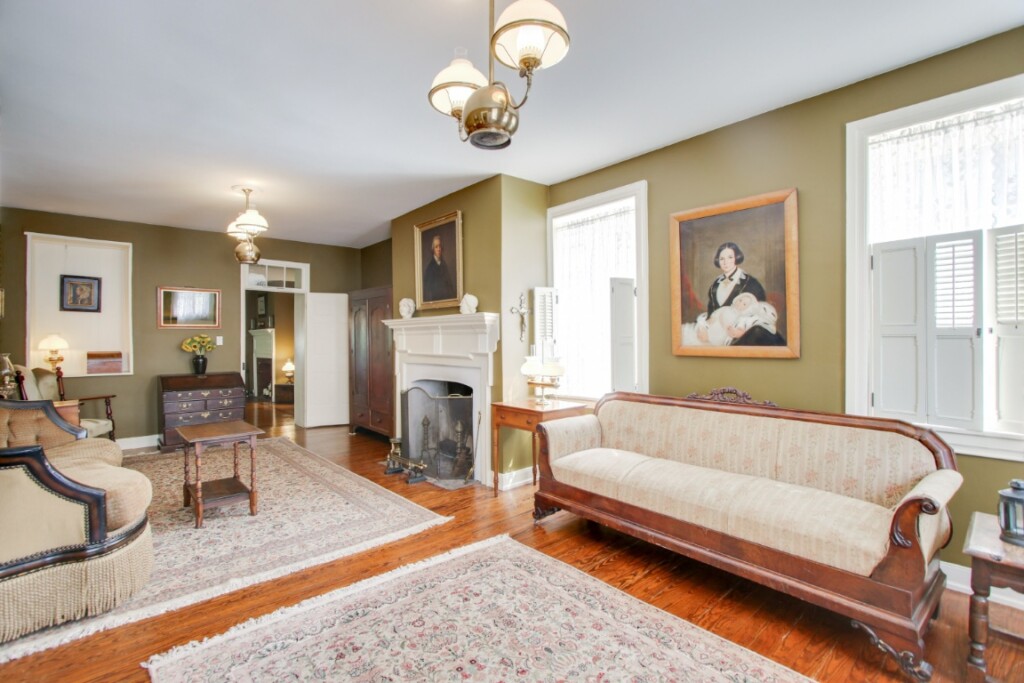 ROOMS: 
Main Floor
Entry Hall 27′ x 7′ – Wood floor, hanging lamp, staircase, marble baseboard trim.
Living Room (Parlor 1) 27′ x 14′ – Wood floor, 2 fireplaces with marble mantels, 2 hanging lamps, 4 windows.
Family Room (Parlor 2) 27′ x 14′ – Wood floor, 2 hanging lamps, fireplace with original wood mantel, transom, second front door, interior shutters, 3 windows.
Dining Room 17′ x 15′ – Wood floor (with painted design), fireplace with wood mantel, hanging lamp.
Kitchen 17′ x 13′ – Wood floor (with painted design), fireplace with wood stove, center island, granite counter tops, wainscot, 1 window.
Full Bathroom 8′ x 5′ – Brick floor, shower.
Glass Atrium 30′ x 13′ – Brick floor, exposed brick wall, ceiling fan, 25′ elevated ceiling, wall of windows.
2nd Floor
Landing 27′ x 7′ – Wood floor, hanging lamp, 1 window.
Master Suite
– Master Bedroom 15′ x 12′ – Carpet, decorative mantel, hanging lamp, recessed lighting, built-in closet cabinets, 4 windows.
– Master Bathroom 9′ x 7′ – Wood floor, claw foot tub, shower, clothes pegs, 2 windows.
Den 17′ x 15′ – Carpet, fireplace with wood mantel, built-in bookcase.
Laundry 14′ x 5′ – Vinyl floor, 1 window.
Bedroom 2 13′ x 11′ – Carpet, hanging lamp, 1 window.
Rear Hallway 19′ x 6′ – Painted wood floor, overlook to Solarium, exposed brick wall.
Hall Bathroom 9′ x 6′ – Vinyl floor, shower.
Study 14′ x 7′ – Painted wood floor, recessed lighting, ceiling fan, 2 windows.
Bedroom 3  13′ x 13′ – Painted wood floor, fireplace with wood mantel, bead board wall, ceiling fan, closet, 2 windows.
Bedroom 4 13′ x 12′ – Painted wood floor, ceiling fan, 2 closets, 2 windows.
Basement
Full Unfinished Basement
Attic
Full Walk-Up Attic – Wood floor and expansive storage.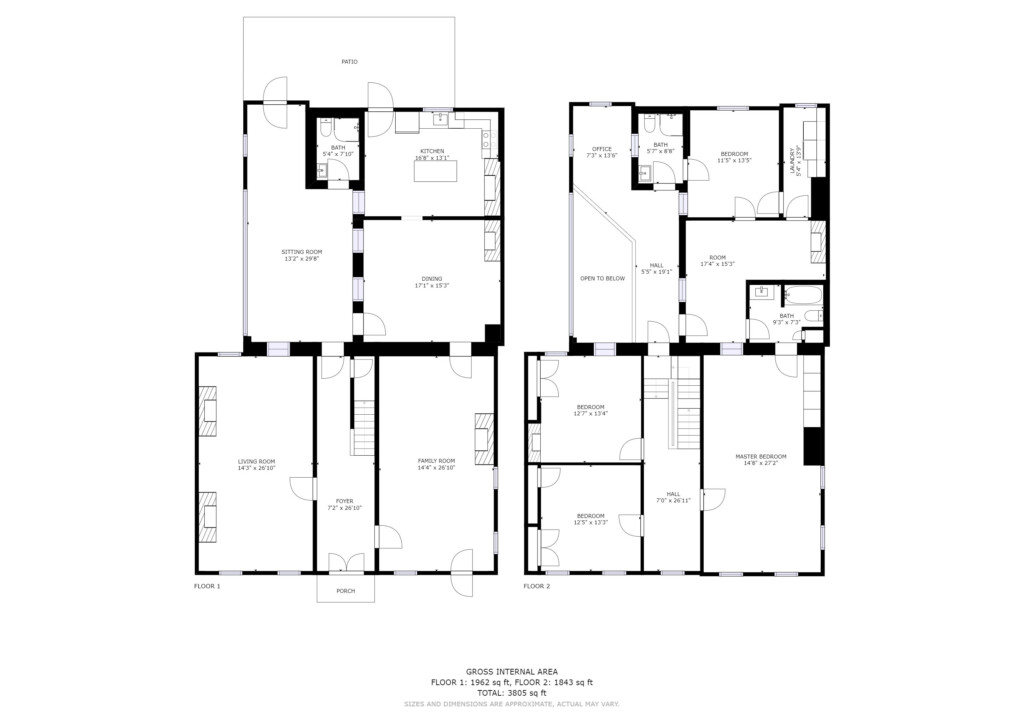 OURBUILDINGS
Brick Stable (*commercial shop or store)
Show Room 1 22′ x 12′ – Painted wood floor, front door, exposed beam ceiling, exposed brick walls, track lighting, ceiling fan, 2 windows.
Show Room 2 22′ x 9′ – Wood floor, exposed beam ceiling, exposed brick walls, side door, stairs to full unfinished second floor, 1 window.
Second Floor – Full floor, suitable for finishing or storage.
*Once an antique store and suitable for other purposes…spacious, with AC & heat.
A two-story brick stable at the back of the property sits in the corner created by the west and rear property lines. It is deemed a stable because there are no large doors to admit buggies or wagons. The stable's unique brick fretwork façade faces the house. It is interesting to note that roof beams in the stable are hand cut 18th century timber, indicating reuse from an earlier structure, possibly the original 18th century summer kitchen. The stable was used up to the 1940s.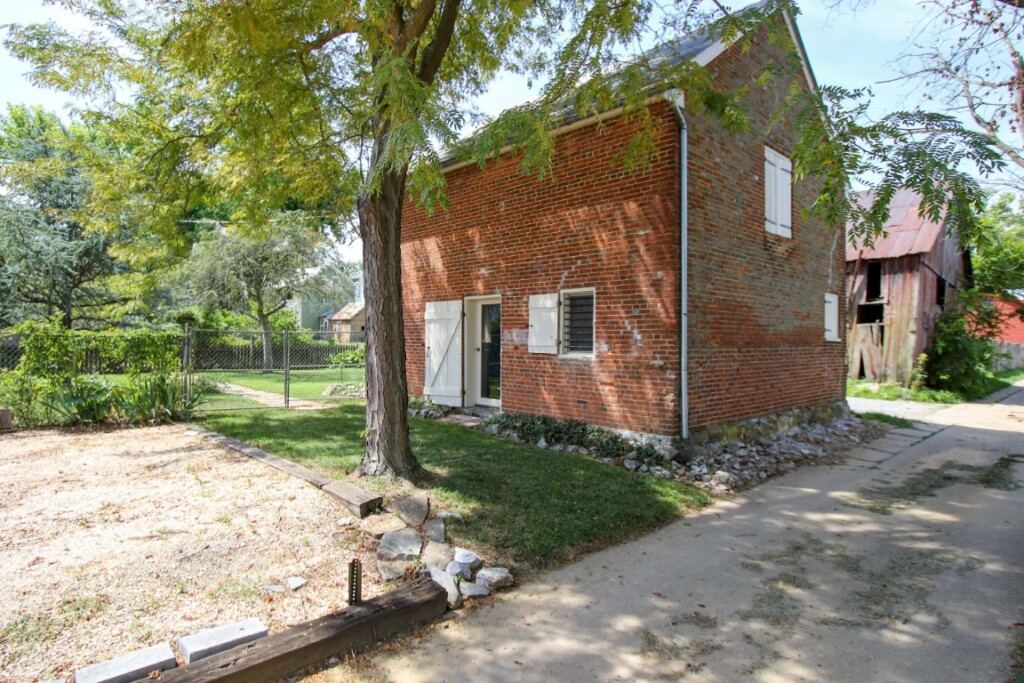 Smoke House
A brick smokehouse attaches the rear of the house with a covered space that once might have contained a brick oven. Architectural evidence indicates at one time there was a door that led into the main house from this location and a kitchen back stairway led upstairs to servants/slave living space.  The stairway was covered over in 1982 to convert the space into an upstairs laundry room. There is also a living space in the attic which contains early 19th century scribblings and some pencil drawings of 1812 era soldiers. This attic space may have been used as either slave living space or itinerant workers lodging.
SELECT IMPROVEMENTS
Two brick chimneys re-pointed
The stone house roof was cleaned, primed with water tank primer and painted as was the smoke house roof
New flashing placed around  stone chimneys
Main fireplace in living room relined
Exterior painted brick was repainted
Doors repainted
New kitchen faucet installed
All shutters cleaned, any wood rot was repaired and painted
All windows were cleaned and repainted (except the second floor front 5 bay scheduled for next week)
All wood fascia boards, dentils and sills, soffits and drip boards, plus wood on the atrium addition were inspected repainted restored (at least 200 repairs as the wood had not been addresses in  years and years
The stable fascia boards and trim were replaced and the second and made critter tight
AC and heating units added to stable.
Doorway was cut into the wall of the stable dividing was and new outlets added to the structure
Added HVAC service agreement (repairs made during normal business hours are labor charge free (service agreement is transferable)
Master bath and bedroom repainted
The transoms covering barred basement window openings were added, previously it was open to the street
Smoke house window was rebuilt and glass re-set
Attic windows were re-set into frame
Front porch decorative iron grill work was cleaned and repainted
Additional fencing added to wood fence for max privacy
BRIEF HISTORY (from the Seller)
On the northwest corner of Sharpsburg's town square stands a handsome stone house with a raised-seam metal roof, its portico resting on the sidewalk before it.
The house features five bays wide, two stories high, with a finely coursed limestone façade, and flat stone arches above its windows, with less formal rubble stonework on the other facades. A shed-roofed brick ell was added at its rear, likely in the late 1820s or 1830s. The main entrance to this Georgian home is in the middle bay and opens into a central hall with a staircase to the second floor and attic. Turned 18th century balusters and pinwheel decorations adorn the stairs and a six-panel door to the cellar hangs on strap hinges. It is interesting to note that this house has stood firm for the entire history of the United States, as it was virtually complete when George Washington was inaugurated as president in April 1789.
The property's origins date to 1738, when trader and tavern keeper Edmund Cartlidge received a patent for a square tract of land, 3,300 feet on a side, including the site where the W. Chapline house currently sits. Cartlidge named the land "Hickory Tavern," suggesting that he had some kind of commercial operation at that place — perhaps his trading post or tavern — because the property sat along an ancient native American path and a portion became the Monocacy portion of the of the great wagon road that led across the Potomac and west.
Twenty-five years later, Joseph Chapline acquired land that included Cartlidge's "Hickory Tavern" and laid out his town, naming it after Horatio Sharpe, the proprietary governor of Maryland from 1753 to 1768. Chapline and his heirs sold lots measuring 103 feet wide by 206 feet deep for as little as a shilling each, expecting to profit from the ground rents specified by the deeds. The most expensive of these lots was No. 47, the northwest corner of the town square, which Chapline sold for 20 pounds, indicating that some improvements lay of the lot, possibly remains from Cartlidge's enterprise. It is believed that construction on the current stone house began in 1787.
more >>>>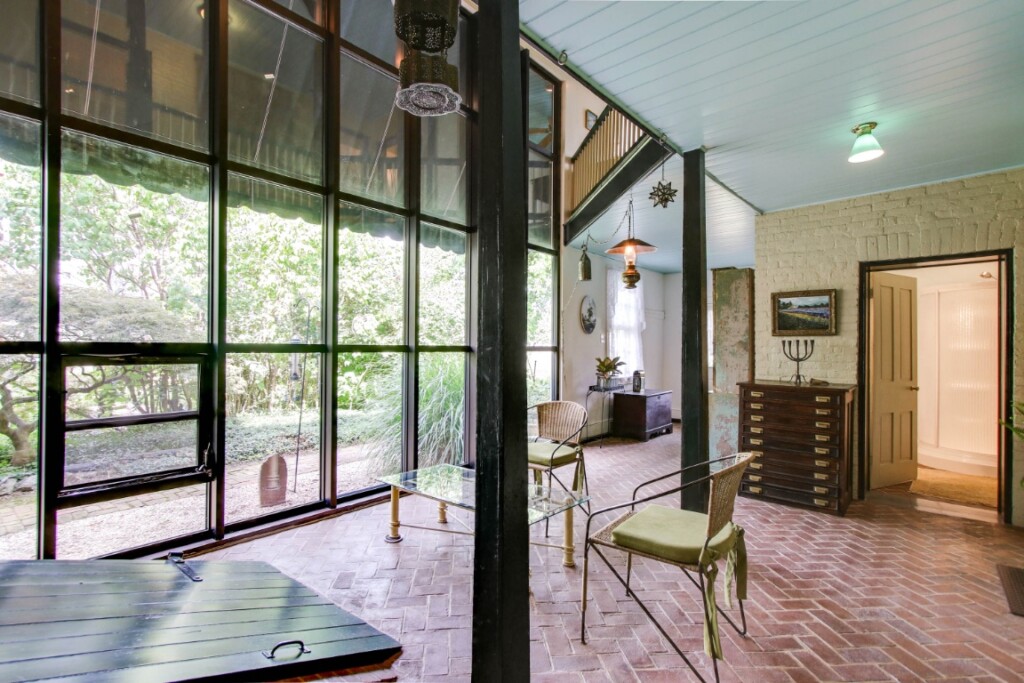 HISTORIC SIGNIFICANCE (NRHP)
The William Chapline House is significant for its architecture, and for the role it played in the growth and development of Sharpsburg, and for its association with two of the area's physicians, particularly Doctor Augustin A. Biggs, who occupied the house during the Battle of Sharpsburg in September, 1862. Architecturally, the house is important as a well documented example of Washington County's late 18th century domestic construction, retaining a significant portion of its original woodwork. Although the five-bay, center-hall plan is typical of many of Washington County's stone structures dating from the late 18th and early 19th centuries, the William Chapline House displays a degree of fineness of execution not apparent in many other houses. Most of the alterations this house has received appear to have occurred during the mid-19th century, and are significant as expressions of that period as well as being linked with the role the house played during the Civil War.
more >>>
BRIEF DESCRIPTION (NRHP)
The William Chapline House is situated on the north side of Main Street in Sharpsburg, forming the northwest corner of the town square. The structure is a 2-story, 5-bay stone dwelling. A 2-story, 5-bay shed roofed brick addition extends to the rear or north. The front elevation of the main section employs finely coursed local limestone while other elevations display less carefully cut rubble stonework. All windows are topped with flat stone arches. Several stones in the east gable were dislodged during the Civil War Battle of Antietam when a cannister shot struck the building. Alterations in the masonry of the front and east elevations suggest possible changes to the house. It appears that the south end window of the east elevation was converted from a door and that the door in the east end of the front elevation was originally a window. All major windows have 6/6 pane sashes, and probably date to the mid-19th century. Original wide window frames joined with wooden pins remain at the attic level. The main entrance, located in the center bay of the front elevation, is elaborate, consisting of double four-paneled doors surmounted by a broad transom with numerous rectilinear panes. The doors are flanked with plain Doric pilasters supporting an entablature. Like the windows, the entrance piece would appear to date to the mid-19th century. The wrought iron entrance porch is present in a late 19th century photograph of the house. The secondary entrance in the east end bay of the front elevation is said to have been installed by Dr. A. A. Biggs during the mid-19th century to provide access to his office. The stone doorstep is incised with his name. Other entrances are located in the rear elevation and in the addition. The roof is covered with sheet metal and terminates with a bargeboard set directly against the end walls. Large stone chimneys finished with corbels are located inside each gable end. The eaves treatment consists of a course of decorative cornice work trimmed with a row of carved dentils just above the upper story window arches. The common bond brick addition holds 6/6 windows. At the rear of the property is a small brick stable, its end walls pierced with geometric brickwork ventilators.
more >>>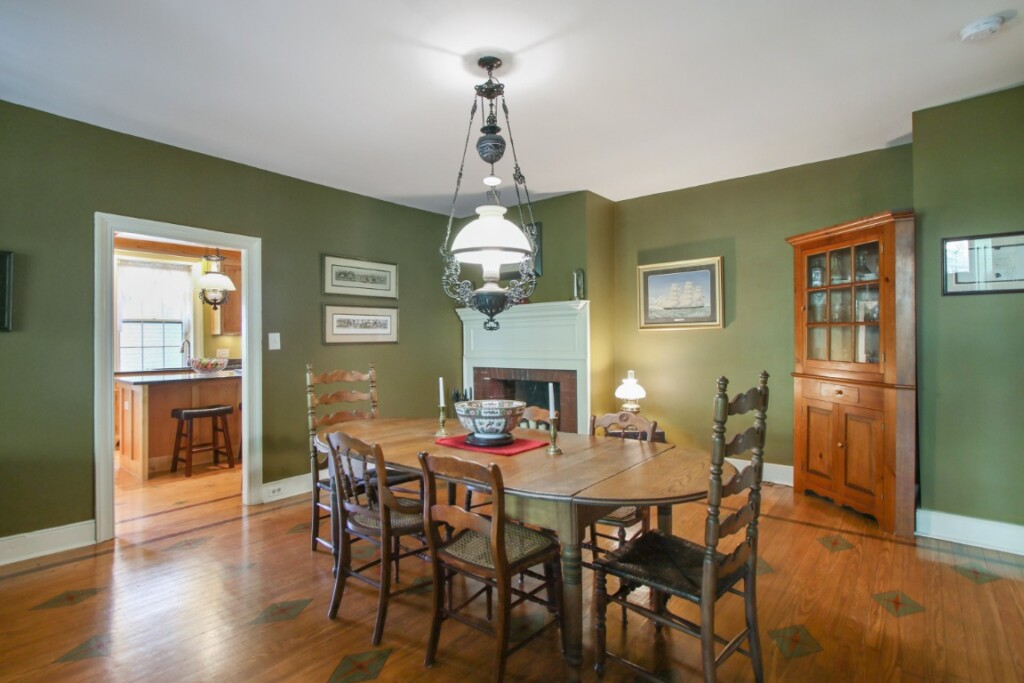 BATTLE OF ANTIETAM
The Battle of Antietam began at dawn on September 17 as the fog lifted. Longstreet's and Hill's units formed the Confederate right and center flanks to the west of Antietam Creek, while Jackson's and Brigadier General John G. Walker's units formed the Confederate left flank. All of Lee's troops were worn-out and hungry, and many were sick. They watched and waited as McClellan's army assembled along the creek's east side. Union forces outnumbered Confederates by two to one, although McClellan thought Lee's forces were much larger. Troops from both sides faced-off across a 30-acre cornfield owned by David Miller….
more>>>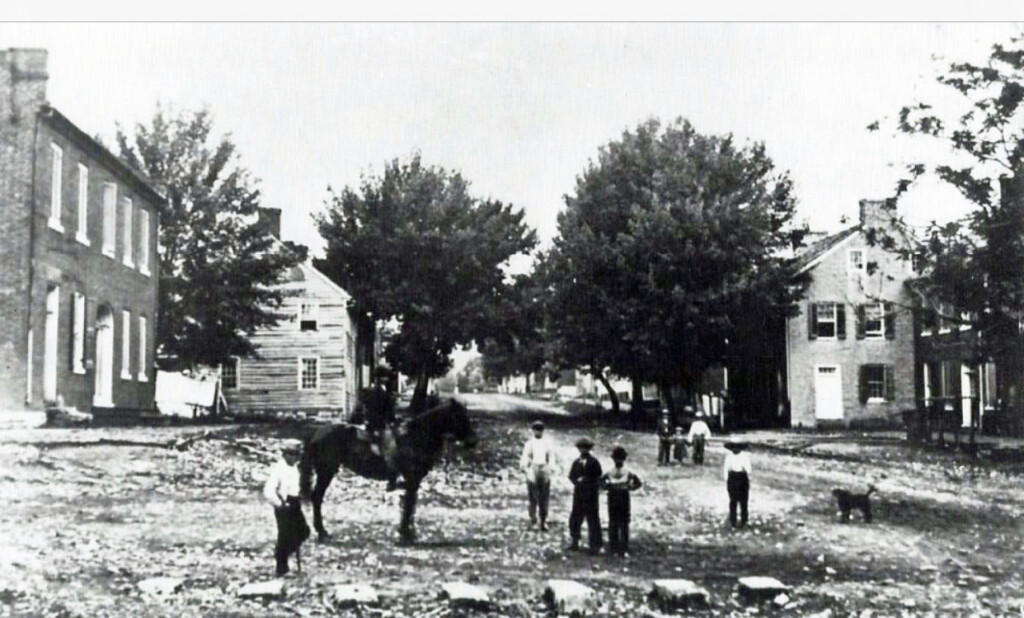 LINKS
Brief History – William Chapline House from the Seller
NRHP Summary – Architectural & Significance
Save Historic Antietam Foundation, Inc. – Preservation of Antietam National Battlefield
Antietam National Battlefield – National Park Service
History of the Battle of Antietam – History.com
Town of Sharpsburg – Town Website
TripAdvisor – Area things to do