Description
Located in Silver Spring, Maryland, just minutes from downtown Washington, DC, this private and enchanted 5-acre estate offers splendid natural beauty and endless possibilities. Designed & built by the renowned Montgomery County architect, John A. d'Epagnier, AIA, in 1946 as his personal, family residence, Notley is an excellent example of Mid-Century Modern architecture made popular by Frank Lloyd Wright (FLW). The craftsmanship of a bygone era defines the interior spaces, featuring bluestone fireplaces, walls of windows and interior planters. Surrounded by beautiful landscaping, this inspired home has style and custom details to spare. One level living and a passive solar design makes this custom 5-bedroom (including a master-suite), 3-bathroom home a relaxing suburban oasis. Mature trees and boxwoods, a rustic 2-story barn, a studio/workshop building and a fenced tennis court offer versatile options for an inspired lifestyle. This estate is a gardener's paradise and has a greenhouse that is as functional as it is beautiful, and open spaces ready for tilling.
Never before offered for sale, this lovingly maintained property offers a rare opportunity to own a piece of history. This is a home of rare and beautiful distinction, close to schools, shopping and transportation, and minutes from DC & Baltimore, yet a world away.
Montgomery County, Maryland-based, self-employed architect, John A. d'Epagnier, A.I.A., captured the American design movement and designed the mid-century modem Notley home by intermingling design, nature, and a communal lifestyle. Built in 3 phases, beginning in post-World War II in 1946, and set on 5 acres of rolling hillside in the Drumeldra Hills section of Colesville, the 5-­bedroom, 3-bathroom, Cherokee Red-colored, frame construction Notley house with cantilevered roof, then groundbreaking post-and ­beam architectural design, and a wall of windows is representative of a significant historical mid-century modem movement at the time of its construction. The second phase was built in 1949-50 and the third phase in 1956. Additional structures on the property include a pump house (1946), workshop/studio (1961, 1970), storage barn (early 1980s), greenhouse (1975), and tennis court (1975).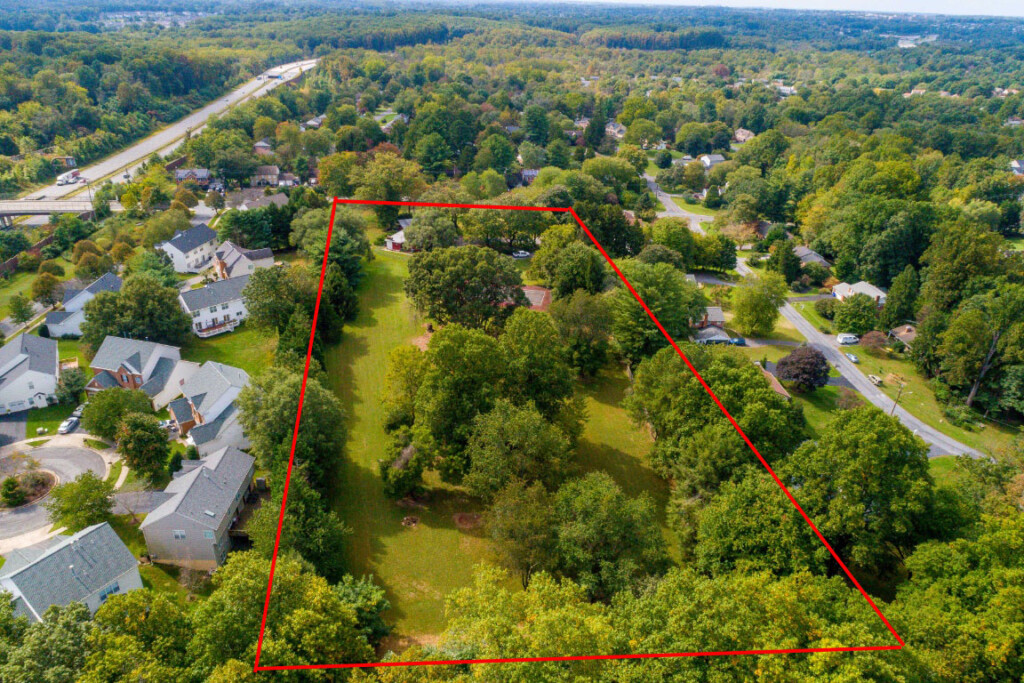 ROOMS
Main Floor
Foyer: Serpentine or soft-radius shaped vestibule, includes finely ribbed plywood walls in Douglas fir, a popular motif in the 1950's; oak parquetry floor, coffered ceiling, over-sized front door with double sidelight windows and air vents on either side, and center ceiling light.
Entry Hall: Parquet floor, ceiling supported by exposed beams that extend beyond the walls as a cantilever support for the long eaves; 2 hall coat closets, framed, open entryway to living room/dining area (Great Room), small wooden wall stand, and doorway to kitchen.
Bathroom: Ceramic tile floor, shower and tub, built-in closet, casement window.
Living Room/Dining area (Great Room): Maple wood floor, centrally placed Maryland blue stone hearth, checkerboard panel walls of finely ribbed plywood in Douglas fir; hanging lamp, 3 expansive book shelves, built-in seating, wall of glass on west side consisting of 4 (8′ x 6′) double-pane insulated windows, 2 large casement windows with cranks on north and south side, baseboard hot water heating, built-in stone flower box with running water, 4 sets of jalousie windows, built-in china closet, and 2 built-in storage cabinets, wooden bar, wood-framed entryway to kitchen with open transom.
Kitchen: Linoleum floor, walk-in pantry, eat-in nook with kidney-shaped custom table with Nassau­ design Formica top and banquette bench with Naugahyde upholstery; large fan housing for cross ventilation, small, built-in grotto-shaped wall niche with electricity, L-shaped, Formica-covered counter top with large stainless steel sink with L-shaped Pella windows above, tiled windowsills, hardwood cabinetry, single casement window, commercial-sized appliances, electric stove-top burners, double oven, built-in broom closet on tiled wall, second counter or wet bar along brick wall with a second stainless steel sink, 3 glass shelves, and 2 built-in storage cabinets, and a door to side porch.
Porch: Three-sided screen and stone porch with flagstone floor and full-length wooden, vertically louvered wall, multiple electrical outlets. Porch leads outside to flagstone ramp surrounded by stone walls and lamppost. Originally, a carport with "W"-shaped support beams, another FLW influence.
Bedroom Hallway: Doorway from foyer, solid oak flooring, exposed-beam ceiling, ribbon of clerestory windows, framed, recessed wall, lighting, and 2 bedroom doorways.
Bedroom 1 (Children's Room): Solid oak flooring, exposed-beam ceiling, large louvered window with sidelight windows on either side, large walk-in closet with additional storage space and electrical lighting, partitioned wall, and baseboard hot-water heating. Combined, bedroom 1 and 2 replicated FLW's concept of a Children's Room.
Bedroom 2 (Children's Room): Solid oak flooring, exposed-beam ceiling, large louvered window with sidelight windows on either side, closet with electrical lighting and access to HVAC unit, partitioned wall, and baseboard hot water heating.
Master Bedroom Suite: Solid oak flooring, exposed-beam ceiling, brick fireplace with stone mantel and built-in shelving and storage cabinet; large louvered window with sidelight windows on either side, closet with electrical lighting, and baseboard hot water heating.
Master Bedroom Suite Bathroom: Tiled floor and walls in three-fourths bathroom with shower, 1 window, and a built-in storage cabinet.
Hallway 2: Doorways to 2 bedrooms and 1 bathroom; large, recessed ceiling fan for cross ventilation.
Bedroom 4: Solid oak flooring, exposed-beam ceiling, ribbon of clerestory windows, framed recessed wall, built-in lighting, 3 built-in bookshelves, and large walk-in closet.
Bedroom 5: Solid oak flooring, exposed-beam ceiling, large, L-shaped windows, 1 large walk-in closet and 1 smaller closet with access to plumbing for shower; access to plumbing for laundry in framed­-out doors.
Bathroom: Tiled floor and walls with shower, large counter with ceramic sink and medicine cabinet. Built-in, shelved storage cabinet, washer and dryer area, full-length second built-in closet.
Basement: Walk in, concrete floor, 2-sectioned utility tub, furnace, built in shelving and racks, electricity, 2 crawl spaces.
Outbuildings and amenities:
Tennis court: Paved standard-size, fully fenced court.
Pump house: Hip, slate roof, masonry block construction, water conditioner system, reserve tank, shelving for garden tools, electrical outlets, outside spigot.
Greenhouse: Water access, electricity, dirt floor, workbench, and shelves.
Shop/Studio: Two-sectioned outbuilding, center-opening barn doors, wood floors, pitched roof, workbenches, shelving, wood-burning stove, 6 windows, electricity, standard door.
Barn: Two-story wood barn, dirt floor, shelving, racks, sliding barn doors, open-galley entrances; closed upper story with wood floor and pitched roof, separate door, handicap access ramp; cinder block structure with window, large door, equipment storage space.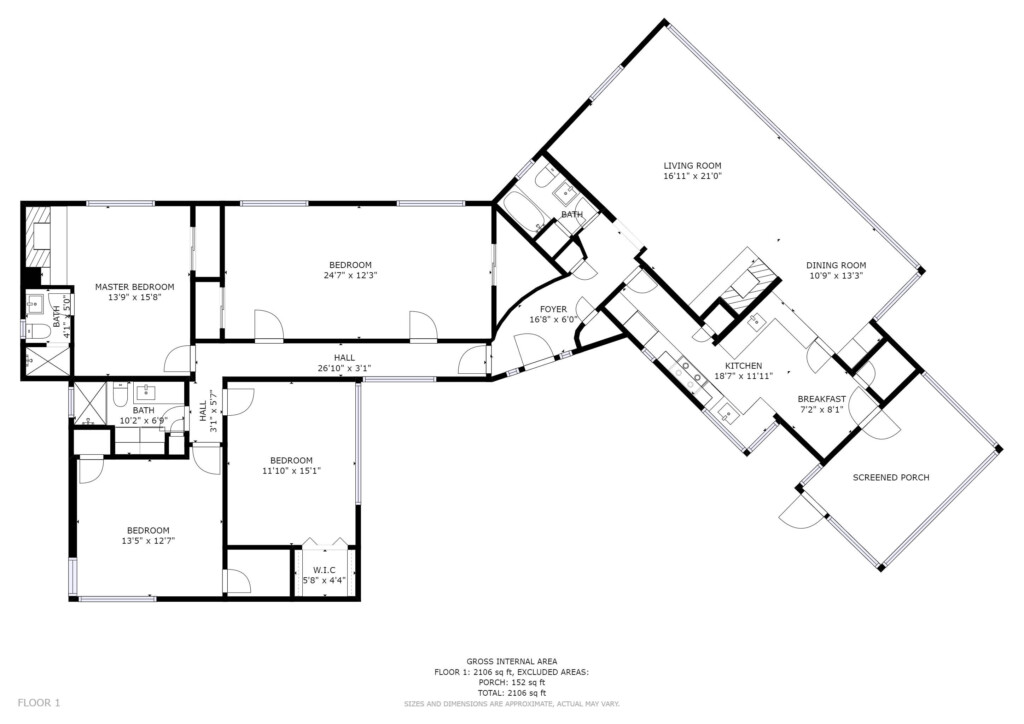 NOTLEY'S SIGNIFICANCE
The Notley property (John A. d'Epagnier, A.I.A. residence) represents an historical era in architectural design; namely, mid-century modern. Notley is historically significant because of its associations with contemporary mid-century architects in the 1940s through 1960s in Montgomery County who together brought the historic mid-century modem style of architecture to Colesville, MD, including the Dean of the Catholic University of School of Architecture, Dr. Paul Goettelmann, Richard Collins, A.I.A., William O'Neil, A.I.A.; also, incorporated the design style and philosophies of Frank Lloyd Wright (FLW), Richard Neutra and Charles Goodman in private residences. Mr. d'Epagnier designed numerous commercial and residential properties for Dr. Laszlo Tauber in the Washington Metropolitan area. Secondly, the work began on the home in 1946 and has remained in the family for 74+ years. Notley's design includes replications of design elements from Taleisin, Kentuck Knob and other mid-century modem homes, including the use of a slanted post and beam, large open-space structure in the living/ dining area, passive solar design captured the heat through use of a chevron design to a portion of the structure, arc-shaped and massive stone wall, cantilevered roof, Cherokee Red paint; wall of windows, ribbons of clerestory windows and built-in stone-walled interior flower box area, all of which brought nature inside; cabinetry, bookshelves, and closets; small kitchen with banquette, FLW's carport turned porch, solid wood flooring, parquet woodwork, large louvered windows with sidelights. Thirdly, the post-World War II era and economy ushered in new possibilities including a suburbia of open, one-with nature, elegant mid-century modem home design.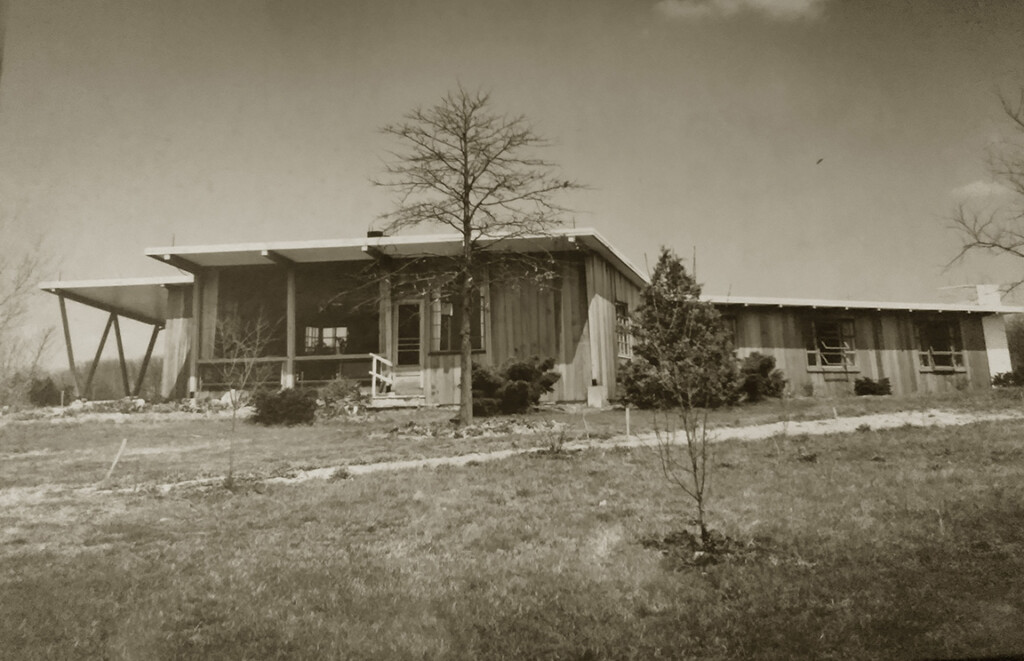 ABOUT THE HOUSE
Notley is a single-story, mid-century modem, ranch-style, private residence designed in 1945 by Montgomery County, Maryland architect, John A. d'Epagnier, A.I.A., that captures the American design movement by intermingling design, nature, and a communal lifestyle. The home combined elements of Frank Lloyd Wright's prairie home style and Usonian style with influences from the Bauhaus/ International era-inspired social philosophies, contemporary architect, Richard Neutra, and Montgomery County architect, Charles M. Goodman.
Using some aspects of Usonian-style homes, the original floor plan for phases I and II mimicked the shape of a polliwog. The tail of the polliwog is represented by the bedroom wing, with each bedroom opening off into a long, narrow hallway. The hallway leads into 'the body' of the house, which consists of a bright and expansive living room or Great Room, alongside a kitchen and foyer. The configuration allowed for additional rooms to be added to the bedroom wing in the future.* As intended with the Usonian style, at Notley, the original polliwog shape gave way to a more U-shaped structure with the third phase, which was built off the opposite side of the long hallway and included 2 bedrooms and a bathroom with laundry area.
The frame-construction Cherokee Red-painted house with a front wall of windows, sloped, cantilevered roof, block construction foundation with walk-in half basement and crawl spaces, is situated on 4.86 acres of rolling hillside in Colesville, MD. In 1945 the land was accessible via a dirt road, R.F.D #1, which later became Notley Road.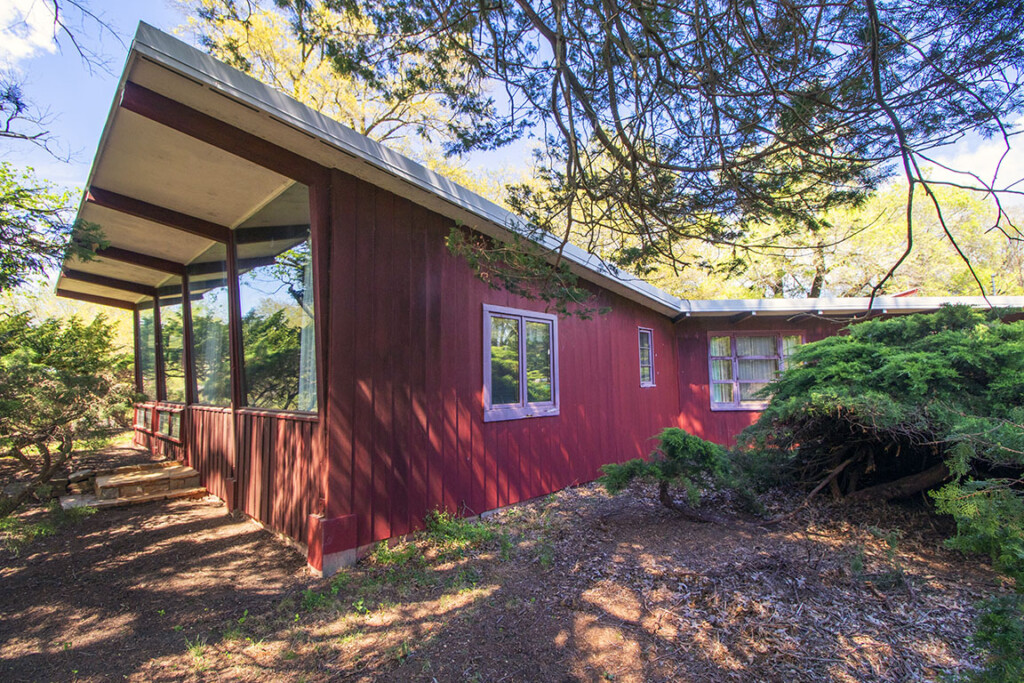 In 2016, a modified bitumen roof, which is a mix of asphalt and rubber with a layer of gravel on top that is used for built-up roofs (BURS), was added. This type of roof is used to support a slag roof. The cantilevered overhangs offer passive solar heating and natural cooling (air conditioning was not used in the Notley home until the 21st century because there was "always a breeze on the hill," according to Mrs. R. d'Epagnier). The long overhangs of the roof shade the heat from the summer sun as it climbs higher in the sky, creating a flow of air from the cool side to the warm side. Natural lighting was captured with clerestory windows. There are approximately 37 windows varying in style and include louvered, casement, jalousie, vented clerestory, and a window wall. Passive solar design is seen on the south side of the house that is shaped as a chevron to catch the heat of the sun as it travels the sky from morning to mid-afternoon. The large stone fireplace located in the center of the Great Room retains the heat, as does the stone flower box under the window wall. The cinderblock foundation includes the basement, which consists of a partial walk-in space with concrete floor, 2-sectioned utility tub, furnace, built-in shelving and racks, electricity, utility boxes, and 2 crawl space areas.
In the 5-bedroom (1 includes a folding partition), 3-bathroom home, the open floor plan of the house includes walls of windows and strong horizontal lines that hug the ground, broad overhanging eaves, prominent central hearth and chimney of mixed stone from local quarries and a bluestone keystone above the fire box, the outside of which is sealed with a clear stone sealer; and a brick fireplace, built-in planter, exposed beams, and built-in closets. There are 8-foot ceilings throughout the house and in the bedroom wings, with 10-foot ceilings in the Great Room (266.4 SF) and dining area (137 SF) due to the sloping cantilevered roof. Natural materials of various woods and stone were used throughout.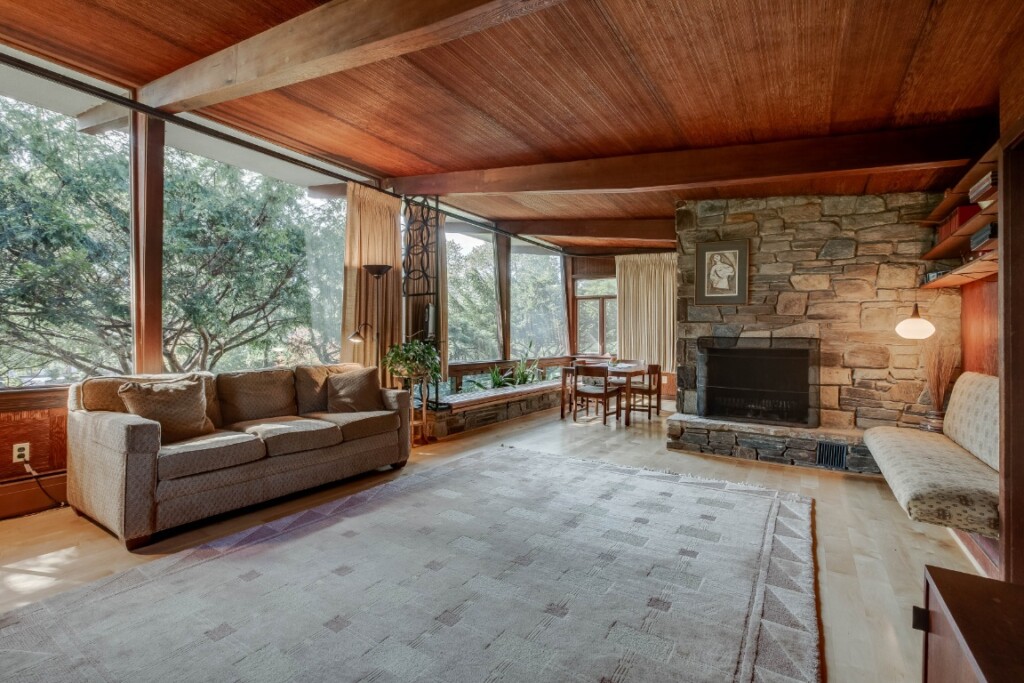 The house was built in 3 phases, the first 2 of which were built by Mr. d'Epagnier and masonry and carpentry subcontractors, beginning in 1946 through 1957.
more>>>>
ABOUT JOHN A. D'EPAGNIER, A.I.A. (1913-1977)
From 1913 into the 1920's, while being raised on a Far Hills, New Jersey estate as the son of caretakers, John A. d'Epagnier, A.I.A., dreamt big as he tended to manual chores; namely, to someday design and build his own unique home. With a high school teacher's encouragement and financial support from his two siblings, he studied architecture in New York City, Washington, DC, and the U.S. Navy during World War II. A few years later, Mr. d'Epagnier and his native Capitol Hill bride, Rita Walsh d'Epagnier, purchased 5 acres in Colesville's Drumeldra section of Silver Spring, MD. The land sold for $5K in 1945 and was accessible via a dirt road that became Notley Road. On the rolling hillside, a 50+ tree apple orchard, 10 peach trees, and a 1-acre garden plus a small cinder block structure that remains at the back of the property, was adjacent to a neighbor's 2-bedroom colonial and farmland on the 3 other sides. The property became the actual drawing board on which Mr. d'Epagnier's dream, but now one envisioned with experienced imagination, became a reality.
During studies at Pratt Institute, department of Architectural Construction, Brooklyn, NY, and in the School of Architecture at the Catholic University of America (CUA, 1936) and Cornell University, Mr. d'Epagnier became intrigued by modem architecture, which incorporated open floor plans, walls of windows to coexist visibly with nature, strong horizontal lines that hugged the ground, and fluidity of movement throughout the home. Mr. d'Epagnier also worked for several years in the office of John Russell Pope on the development of the National Archives Building, the National Art Gallery, and the Thomas Jefferson Memorial following work in the Navy Department at the Bureau of Yards and Docks in the early and mid 1940's.
The works of Frank Lloyd Wright were inspirational, and Mr. d'Epagnier included all of the above-mentioned elements at the Notley Road site as well as a low-lined roof with broad overhanging eaves, prominent central hearth and chimney and a brick fireplace, ribbons of windows, built-in planters, the use of Cherokee Red, Wright's signature color, exposed beams, many built-in closets, seating, cupboards, and bookcases, and the use of natural materials, mostly stone and wood, modeled after elements from Frank Lloyd Wright's Prairie Period and his Usonian designs. Elegant simplicity was intended and achieved in the design.
more>>>>
HISTORY OF COLESVILLE
Drumeldry:
Patented in 1715 and containing 225 acres, it extended from the Northwest Branch, near the Indian Spring Country Club, across Notley Road to Shannon Drive. 14201 Notley Rd. is in Drumeldry, now known as Drumeldra Hills.
Coalsville or Colesville:
The name "Coalsville" is first found in the 1804 Montgomery County tax assessment records, a 2 ¾-acre rectangular plat located at the intersection of New Hampshire and Notley Road. That it was "Coal" and not "Cole" is insignificant because the 2 spellings of the family name were used interchangeably in records. How the tiny tract received its name is a mystery. No record of early settlers in the Colesville area with the name Cole or Coale has been found, yet someone with the name must have run a store there for some years to have the site assume his name.
A 20th-century resident of Colesville has said that her grandfather, Michael Peter, lived in the original Cole house, a log-cabin structure originally, with a joist outside the entrance to the cellar where the letters C-O-L-E are chiseled. The "Cole House" once stood on the northwest comer of today's Notley Road and Paula Lynn Drive.
Notley Road (West):
Notley Road (west) was a private roadway at least as early as 1855 when it ran from Bonifant's road to the farm of William 0. Neal, to John Sharretts' dwelling house on Drumeldry, and then to the north-south road, which today is New Hampshire Avenue. It is likely that when John Berry owned Drumeldry during the latter part of the 18th century, he used a portion of today's Notley Road as a private roadway.
Notley Road (West) is significant for several historical reasons. A girls' finishing and boarding school operated at the site of Drumeldry in the 1830s. The first Colesville Elementary school was located at the site of Colesville Manor Park and the Pumping Station. The house of Michael Peter, the above-mentioned "Cole House," stood on Notley Road, just north of Paula Lynn Drive. Where Notley Road currently intersects with New Hampshire Avenue, a tract of land called Coalsville existed in 1804.
more>>>>
LINKS
Plat – Google Maps Boundary
Vintage Images – c.1950's
Colesville – A History of Colesville
About the Architect – John d'Epagnier, A.I.A.
Notley – About The House
Maryland Historical Trust – Inventory Form by Louise d'Epagnier Mullican
Wikipedia – Mid-Century Modern
Wikipedia – Frank Lloyd Wright
All information is deemed reliable, but not guaranteed.