Description
This 18th and 19th century 2 story home placed on 1.11 acres of land in Hagerstown MD is a magnificent tapestry of historical significance, architectural style, and cheerful and bright abode. With the original log cabin house estimated to have been built in the late 18th century beautifully integrated with the mid 19th century historic stone addition, this home presents an elegant collage of exposed log, brick, and stone walls, floor to ceiling grand fireplaces, a classic two story side porch, custom wood paneling, wood floors, exposed wood beam ceilings and more.
There is no question that Historic Pike Hall both merges effortlessly with its surroundings and stands strong as a pillar of rich historic significance embodying the charm of a swan, just as its name suggested in the Early 1800s when it was a Stagecoach Stop by the name of The Sign of the Swan. This property chronicles generations of rich history including its Colonial construction off of an early trail to all points west, part of which is now West Washington Street, to a suspected speakeasy during prohibition, and a hippy commune in the 60s to name a few.
Historic Pike Hall maintains this historic tapestry with details such as original moldings, magnificent brick and stone fireplaces, original wood floors, a clawfoot tub, and a working old iron hand pump over the kitchen sink, while gliding into the 21st century restored to its original beauty and including a kitchen with modern amenities and custom made wood cabinets and counters, a refinished staircase, recessed lighting, a new roof, zoned heat & AC, a security system and more. The 3718 sq ft floor plan accommodates gorgeous rooms that fill with natural light including the first floor expansive master suite with a walk in closet and walk out screened in porch, a beautiful living room off of the main hall with an exquisite brick hearth that stretches from floor to ceiling with a long wood beam mantle, a spacious dining room with an adjoining family room, and four second floor bedrooms. The main house is gracefully complemented by the property's outbuildings, which include a cozy log wash house with a large built in fireplace, log smokehouse, and outhouse. The combination of retro flare and bright modern coziness gives Historic Pike Hall an ideal atmosphere for enjoying life in a remarkable historic home.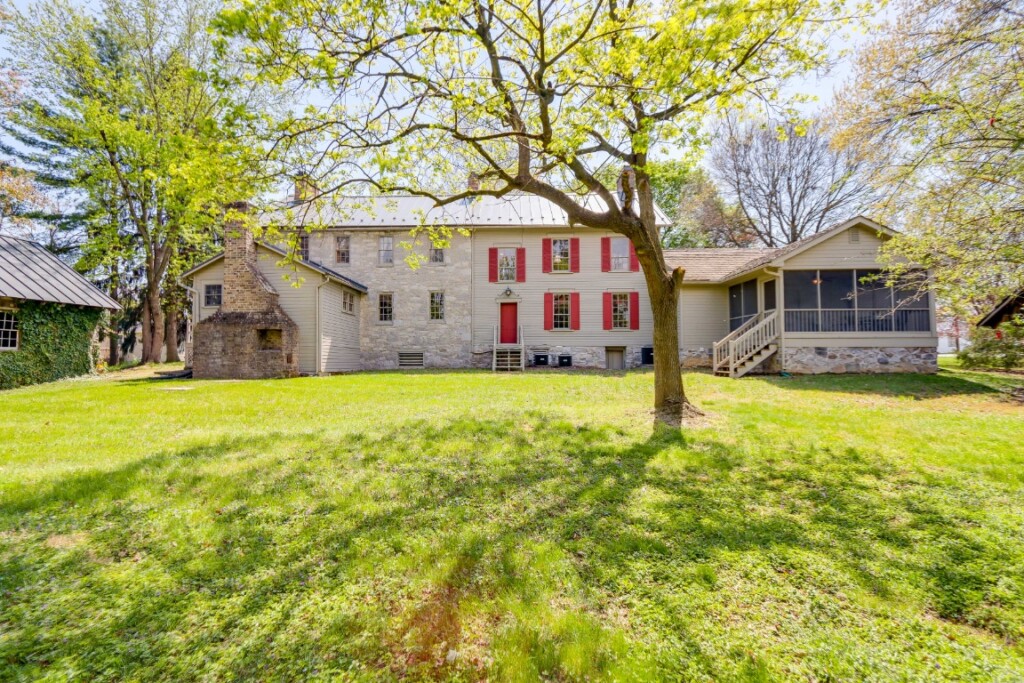 ROOMS
Entry Hall 23′ x 7′ – Wood floor, staircase, rear door.
Powder Room – Wood floor, located under the main staircase.
Living Room 23′ x 19′ – Wood floor, brick hearth, built-in cupboards, exposed beam ceiling, 4 windows.
Master Bedroom Suite 27′ x 20′ – Wood floor, recessed lights, walk-in closet, door to 16′ x 12′ screened porch, 5 windows.
*Master Bathroom  14′ x 11′ – Wood & ceramic tile floor, tub & separate shower, closet, laundry closet with washer & dryer.
Dining Room 18′ x 16′ – Wood floor, brick fireplace with wood mantel, built-in cupboards, second front door, 3 windows.
Family Room 16′ x 13′ – Wood floor, stone fireplace, built-in bookcase, chair rail, closet, third front door, 1 window.
Kitchen 15′ x 15′ – Wood floor, custom wood cabinets & counters, exposed wood beam ceiling, wood paneled walls, exposed stone wall, door to side porch, pressed tin decorative ceiling, 2 windows.
Screened Porch 18′ x 10′ – Off the Master Suite
2nd Floor
Hall 11′ x 7′ – Wood floor, 1 window, door to attic stairs.
Bedroom 2 17′ x 12′ – Wood floor, exposed brick wall, closet, pass door to Bedroom 2, 2 windows with interior shutters.
Bedroom 3 19′ x 10′ – Wood floor, closet, 3 windows with interior shutters.
Hall Bathroom  7′ x 5′ – Wood floor, claw foot tub, 1 window.
Bedroom 4 16′ x 16′ – Wood floor, fireplace with wood mantel, door to porch, 3 windows.
Bedroom 5 16′ x 16′ –Wood floor, fireplace with wood mantel, built-in cupboard, 3 windows with interior shutters.
Exterior Porch/Balcony 32'x 5′
Basement
Improved, concrete floor, stone winter cooking hearth, exterior access.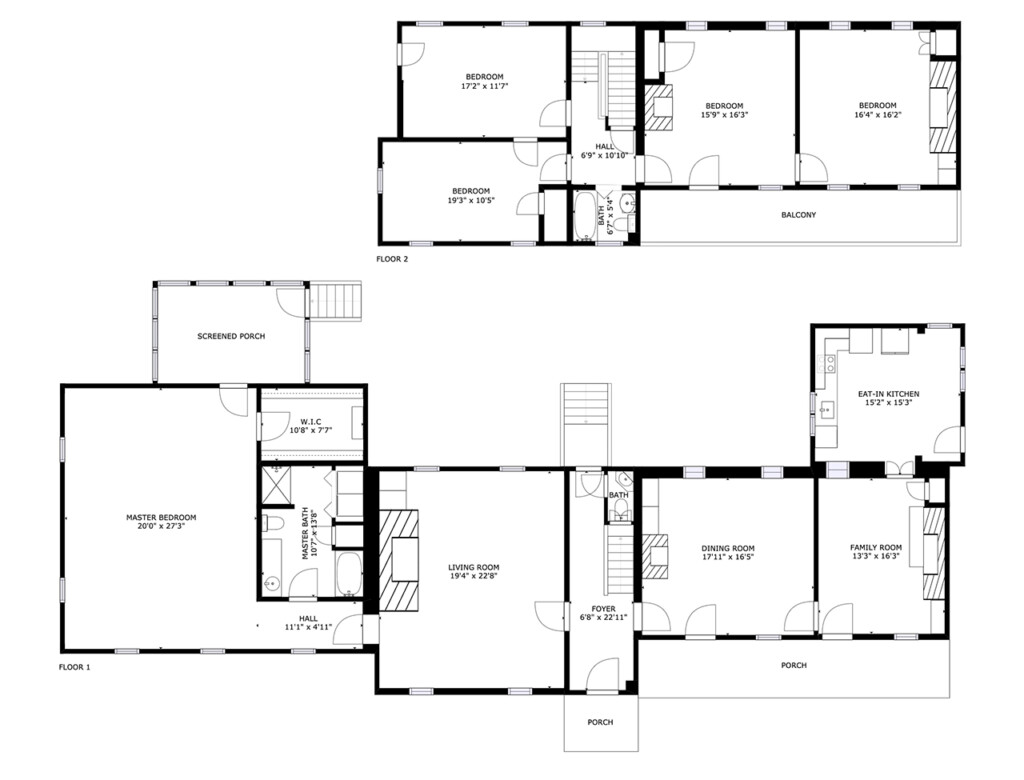 Outbuildings
Beside the house is a log wash house that was designed and built in the 1990's from old materials. It is a comfortable space with a huge fireplace at the far end and exposed log walls. There is also a log smoke house that was removed from another spot and rebuilt here. An out house on the property was lost and a copy from a design used in Williamsburg was built in its place.
Log cabin (Wash House built in 1990's) – 30′ x 16′
2 Story, wood floor, exposed beam ceiling, exposed log walls, brick hearth, 5 windows, no electrical, no plumbing.
Replica Out House (built in 1990's)
Vintage Log Smoke House
Exterior Feature
A  massive brick chimney with a waist-high stove top was added at the rear of the kitchen wing with a design based on an outdoor cooking stove from a house in Richmond listed in the National Register of Historic Places.
HISTORIC SIGNIFICANCE
In the colonial period, an early trail meandered west from the sea through the wilderness that became Washington County. This trail was incorporated into the Bank Road complex that joined the National Pike at Cumberland. A section of this early road is called West Washington Street in Hagerstown. Along this road, at the western edge of the city, stands a two-story stone and log home, partially hidden by trees. Pike Hall is seven bays wide, presenting four windows and three doors to face the road on the first floor level.
The western, log section of the house was built first, but the exact construction date isn't known. In 1789 Conrad Oster purchased 53 acres of land, parts of Resurvey on Nicholas Ridenour 's Pond, Henry's Last Shift and Hager's Delight, from David Ridenour. Conrad's wife Eve was a granddaughter of Nicholas Ridenour, so this was a sale within the family. It could be that Conrad and Eve built the log house after they acquired the land, or it might have been the work of an earlier settler.
In 1838 a stone wing was added to the east side of the hall. This addition was set back from the log house to allow room for a double porch with its chamfered posts supporting the main roof span. The floors were also a step higher than those of the log section. The stone corners are quoined, and beside the door in the east wall is a hand-cut stone that reads, JO 1838.
Pike Hall has had a varied history. At one time it was a stagecoach stop offering dinner; breakfast and lodging, as well as care for horses. In the February 26, 1801, edition of The Washington Spy, it was advertised as The Sign of the Swan and run by the Ridenour family. Some say it was a speakeasy during Prohibition. There were apartments at Pike Hall during World War II and a hippy commune after that.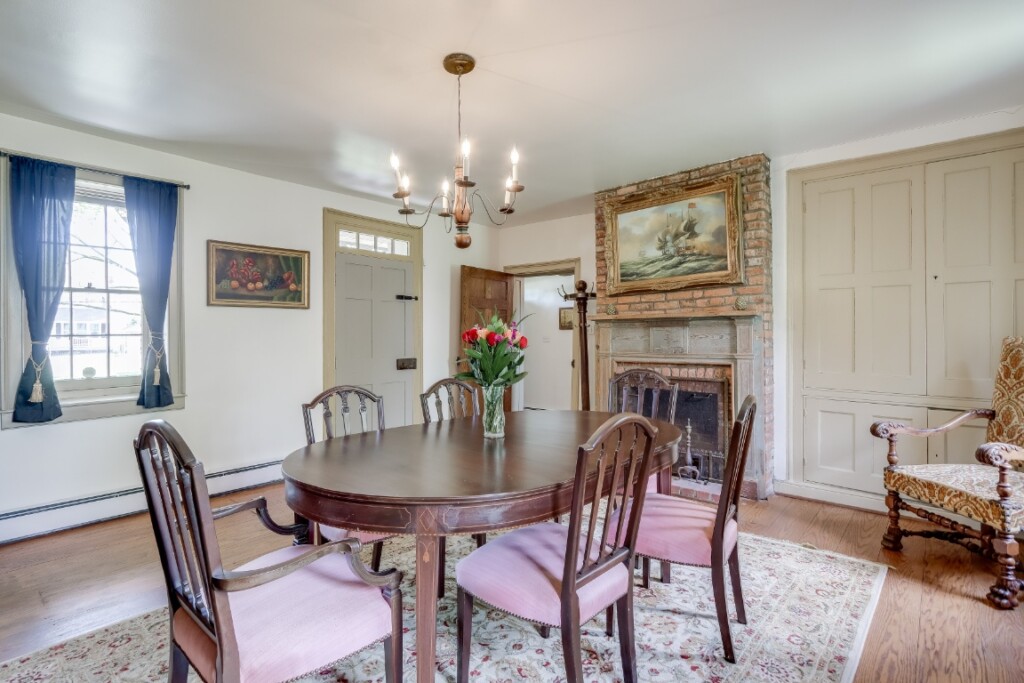 ARCHITECTURAL SIGNIFICANCE
Significant renovation and restoration has been done since Pike Hall (Oster House) was included in the Maryland Historical Trust inventory and this description
The area of significance of this house is its architecture. The stone section with its 1838 date is a documented example of Washington County's vernacular architecture from the second quarter of the 19th century. The wooden section of the house, although it appears to be the older of the two, has received rather extensive exterior and interior alterations, which would tend to decrease its significance somewhat. The initials "J.O." inscribed in the date stone presumably refer to someone in the Oster family who owned the property from 1789 to 1878. The property which contains parts of the £rants, "Nicholas Ridenour's Pond," "Henry's Last Shift" and "Hager's Delight" was purchased in 1789 by Conrad Oster from David Ridenour. Later, Eve Oster, Conrad's widow, purchased 100 acres from her brother Nicholas Ridenour. In 1836, Eve Oster sold 50 acres which presumably included this house to Daniel Oster. Eve Oster apparently died a short time later.
The structure is a two-story,  even-bay log and stone dwelling. A relatively modern one-story, two-bay frame addition extends to the rear or north.
The three western bays appear to be of log construction sheathed with horizontal weatherboarding and set on rubble fieldstone foundations. The eastern four-bay section is constructed of roughly coursed local fieldstone and appears to be an addition to the log structure. A stone in the east gable wall about four feet above ground level is inscribed with the initials J.O. and the date 1838. There is no decorative stone work associated with the window and door openings.
All windows consist of two-over-two pane Victorian period sashes held within narrow frames in the stone section and trimmed with turn-of-the century architraves in the log section.
The main entrance is located in the third bay from the  west end of the front elevation of the log section. The door is flanked by a transom and sidelights and enters into a stair hall. Two entrances are present in the stone section. They are quite simple in appearance and had transoms which have been closed.
A double porch framed under the main roof span extends the length of the front elevation of the stone section. The entire south wall of the stone section is recessed several feet behind the front wall of the log section.
Asphalt shingles cover a roofing structure which extends beyond the end walls. There is no decorative work at the eaves. A large brick chimney extends from inside the east gable end. Smaller flues, also of brick, are located inside the west gable end and extend from the interior at the jointure of the two sections.
The interior of the stone section is divided into two rooms at each story with woodwork consistent with the 1838 date. All rooms in the stone section have fireplaces. In addition, a large service fireplace is located in the east wall of the cellar. The wooden section of the house appears to have been extensively altered at the interior with woodwork reflecting turn of the century and later design.
The interior wall shared by the stone and log sections is apparently of wood, suggesting the log section of the house was built first.
more MHT >>>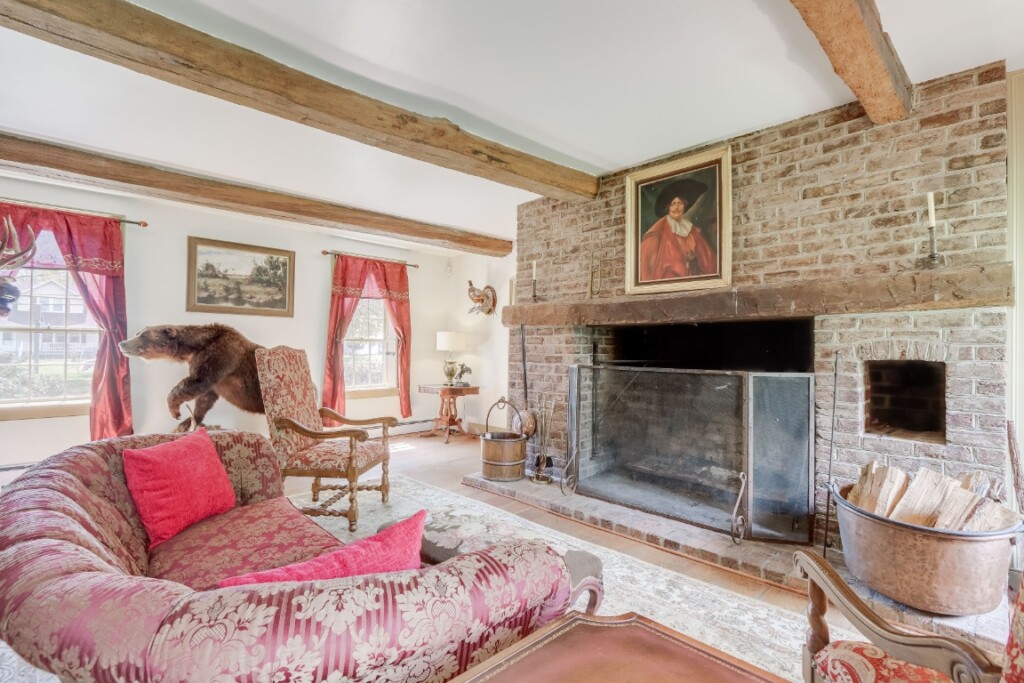 SELECT RECENT IMPROVEMENTS
2 New AC units
1 New heat pump
Complete exterior painting
Complete interior painting excl. trim
New standing seam metal roof
New Chimney caps
New septic tank
New curtains
New area rugs
New Landscaping
LINKS
Pike Hall – Architectural & Historic Treasures of Washington County Maryland by Patricia Schooley
Pike Hall – Washington County Historical Trust
Pike Hall (aka Oster House) – Maryland Historical Trust
Washington County – Washington County Historical Society