Description
This breathtaking Craftsman style home c.1923 has been beautifully restored and renovated with no expense spared. Set on the largest lot within the town of La Plata, Maryland and just minutes to downtown Washington DC, this 6.31 acre "in town" estate is primed for a 7 unit residential subdivision, while keeping the extraordinary home on a beautiful 2 acre lot.
Spacious and striking, this newly restored & renovated home will impress from the first look. Featuring an exquisite 1923 Craftsman design with a  stately wraparound front porch and stunning views of the gorgeous estate grounds, the home is nicely situated on a partially wooded corner lot. The home's open designed interior sets an appropriately impressive tone with its elegant wood floors, custom wood paneling, French doors, dental crown molding and inviting living room gas fireplace. The formal dining room with a chandelier, exquisite woodwork, china cabinet & crystal wall sconces makes entertaining an elegant affair and the connected seasonal screen porch allows the activity to continue outdoors on warm summer evenings. The gourmet kitchen, with granite and stainless steel, is a chef's dream for creating delightful cuisine, including a prized Wolfe gas range. Off the kitchen is a four season sun room offering respite from the days events and warmth for the soul. There are 2 spacious bedrooms and 2 bathrooms on the main level, including a master suite and private dressing room with abundant cabinets and wardrobes. In addition, the home features 3 bedrooms, bonus room and a bathroom upstairs, and a full walkout basement suitable for storage, a shop or hobbies, as well as, a 5 bay detached garage.
Zoned for development, the land is ideal for a subdivision, while maintaining this gorgeous home and a private setting.
This is an estate of rare and beautiful distinction, close to DC, yet a world away.

ROOMS
Living Room 18′ x 17′ – Wood floor, custom ornate wood paneling, chandelier with medallion, recessed lighting, fireplace with wood mantel & gas insert, crown dental molding, transoms, front French door, 4 windows.
Family Room 18′ x 15′ – Wood floor, custom ornate wood paneling, hanging lamp with medallion, recessed lighting, crown dental molding, glass French doors to Living Room, 5 windows.
Dining Room 19′ x 16′ – Wood floor, wood paneling, built-in custom cabinets, wall sconces, chandelier with medallion, door to screen porch, transoms, 3 windows.
Side Hallway 16′ x 6′ – Wood floor recessed lighting, built-in cabinets, 1 window.
Kitchen 15′ x 14′ – Wood floor, stainless steel appliances, granite counters, hanging lamps, recessed lighting, vegetable washing sink, glass front cabinets, gas Wolfe stove, 2 wall ovens, built-in microwave, rear staircase, door to Sun Room, 2 windows.
Sun Room 29′ x 8′ – Wood floor, exposed brick wall, recessed lighting, heated, ceiling fan, glass French doors to yard, 18 windows.
Laundry 14′ x 5′ – Ceramic tile floor, wainscot, recessed lighting, cabinets, granite counter, sink, 1 window.
Hall Bathroom 10′ x 6′ – Ceramic tile floor, recessed lighting, heat lamp, claw foot tub, tile shower, pedestal sink, 1 window.
Master Bedroom *Suite 15′ x 14′ – Wood floor, hanging lamp, wall sconces, closet, 4 windows.
*Bathroom 10′ x 7′ – Ceramic tile floor, luxury tile shower, recessed lighting, 1 window.
*Dressing Room 10′ x 15′ – Wood floor, built-in cabinets & wardrobes, track lighting, door to hallway, transom, closet, 1 window.
Main Hallway 27′ x 7′ – Wood floor.
Bedroom 2 15′ x 12′ – Wood floor, ceiling fan, electric stove, closet, 2 windows.
2nd Floor
Bedroom 3 16′ x 15′ – wood floor, ceiling fan, wood paneling, transom, 2 closets, 2 windows.
Bedroom 4 13′ x 12′ – Wood floor, ceiling fan, wood paneling, transom, closet, 3 windows.
Hall Bathroom  17′ x 9′ – Wood floor, double sink, granite counters, wall sconces, recessed lighting, luxury tile shower, closet, 1 window.
Bedroom 5 17′ x 9′ – Wood floor, ceiling fan, 2 closets, custom decorative wall treatment, 1 window.
Hall 17′ x 3′ – Plywood floor, 1 closet.
Bonus Room/Attic 30′ x 9′ – Plywood floor, wood paneling, recessed lighting, wall ac/heating unit, 2 closets.
Wrap Around Porch 13′ – Wood deck, recessed lighting, 3 ceiling fans, with 16′ x 10′ screened section.
Shed
Gardening shed
Full Basement
Improved, concrete floor, 2 sump pumps, HVAC, door to sun room, 7 windows.
Garage
Detached 5 bay garage with attic area.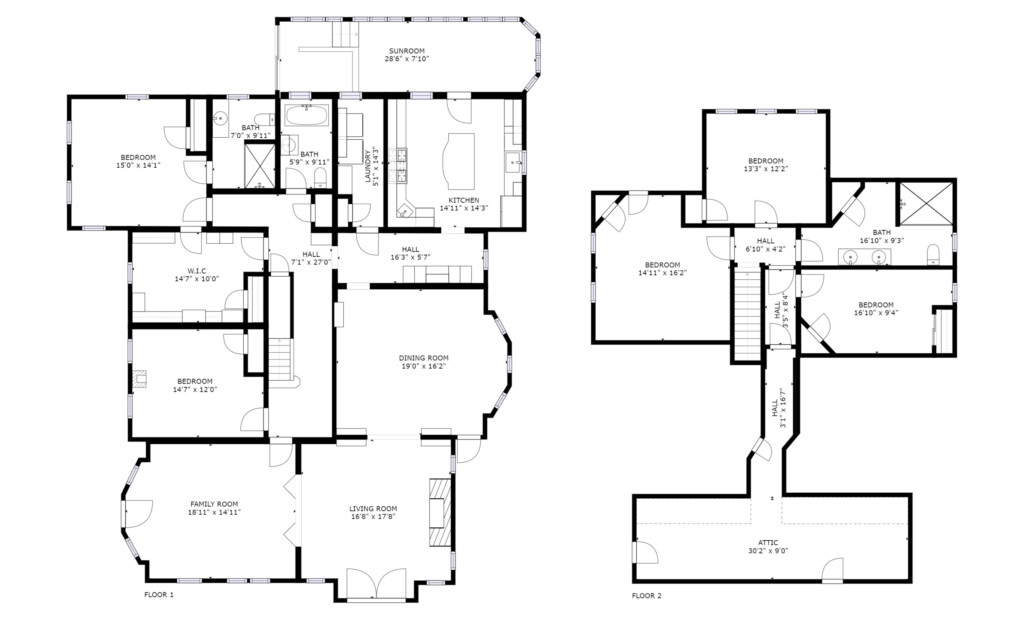 DEVELOPMENT OPPORTUNITY
Residential Subdivision
Professional Opinion Summary – House on 2 acres with 7 additional .86 acre lots.
A residential subdivision on a portion of the property, leaving sufficient land to enhance the overall ambiance of the residential improvements already located on the property.
A development plan would incorporate a double entrance system, which may require the street to run along the rear property line behind the existing improvements. This, if buffered sufficiently, should no impact the overall usability of the current residential improvements.
A 2.0 acre lot should be incorporated around the existing improvements to allow for the continuing use of this period home, which should allow
for sufficient buffering, if landscaped appropriately, from any adjoining residential subdivision.
Allowing for 2.0 acre to be incorporated with the existing home site, this would leave approximately 4.3240 acres available for residential development. Discounting by approximately 20% for roads, this would allow for a development plan which may incorporate approximately 7 units of residential density.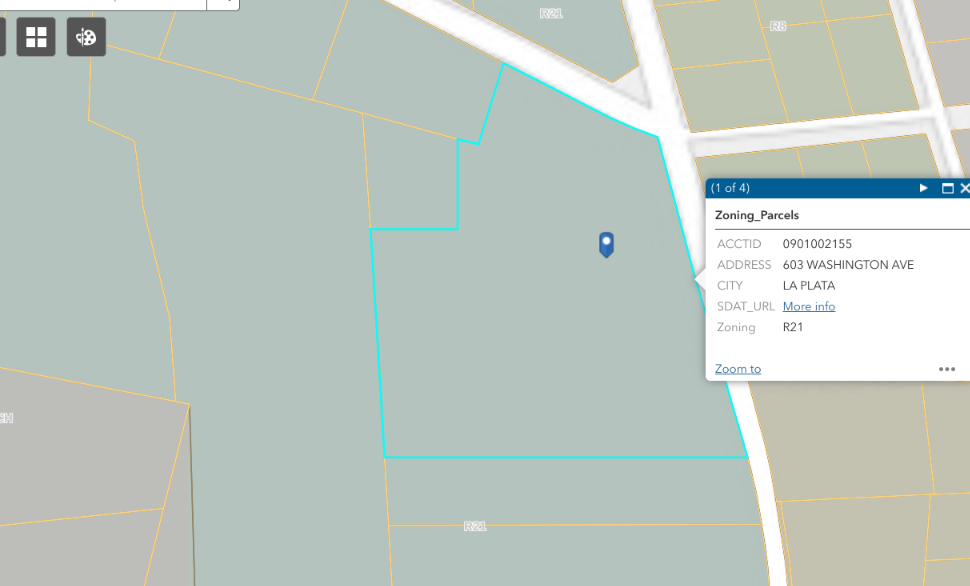 CRAFTSMAN STYLE HOMES
Craftsman homes have several common features that make them recognizable and just as popular today as they were more than 100 years ago. In stark contrast to the verticality of Victorians, Craftsman homes emphasize horizontal lines, with low-pitched gable (triangular) roofs that extend far out past the home's exterior walls, often with exposed beams or rafters. Craftsman homes "showcase hand-worked local materials with decorative elements such as brackets, lintels, and rafters," Grant says, "and display an artisanal approach to surface decoration."
The over-extended eaves of Craftsman roofs lend themselves to having spacious porches on the front of houses, which featured thick, tapered columns along the perimeter. Typically, the exterior of these homes had painted wood siding, but accents of stucco or stone were used fairly often as well—the common theme being an emphasis on earthy tones.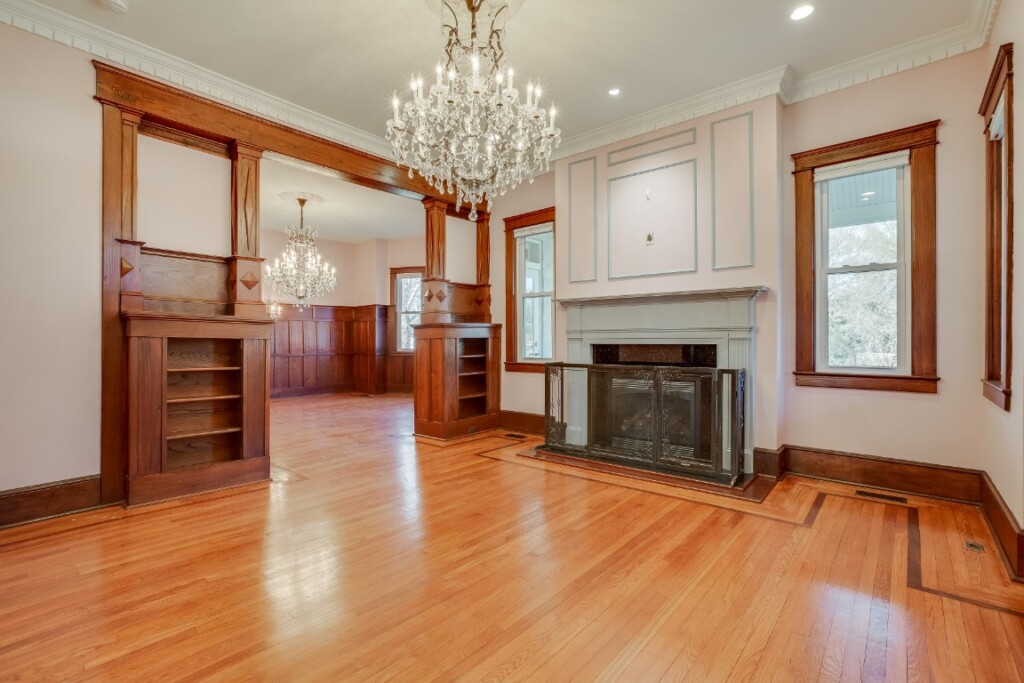 The interiors of Craftsman homes are just as distinct and important to the builder as the exterior. Wooden features abound: thick trim around doors and windows, built-in bookshelves and window seats, boxed beams along the ceiling, etc. A prominent fireplace (or two) is also a key feature inside Craftsman homes. Smaller Craftsman homes, with their distinct, cozy rooms, are a favorite to convert to "open-concept floor plans" on home renovation shows, which quite frankly can strip these historic structures of many of the features and charm that first made them so desirable.
House Beautiful Magazine – Nov 21, 2018 (Maggie Burch)
TOWN OF LA PLATA
The Town of La Plata is located in Southern Maryland about 30 miles southeast of Washington, DC, 60 miles south of Baltimore, 45 miles southwest of Annapolis, and 80 miles north of Richmond, Va. It serves as the county seat for the Charles County Government and was originally founded in the 1870's as the Pennsylvania Railroad was granted a right of way to build its tracks and station. The Town of La Plata was incorporated on April 4, 1888.  Since La Plata's inception, it has grown into a beautiful small town of 8,753 residents (2010 Census) with hundreds of small businesses that serve Southern Maryland.
Shopping opportunities also abound, starting with the farmers market. Farmland surrounds La Plata real estate, so most of the produce and meat you find come right from the farms next door. The farmers also set up food stalls, providing you with a chance to enjoy local flavors and treats. Locally owned stores include music shops, clothing emporiums, and craft boutiques.
La Plata, MD, captures the small-town feel perfectly, with locally run businesses making up most of your shopping and dining options. Classic American diners sit side by side with family-owned barbecue places and authentic Greek restaurants. Most of the dining options in La Plata, MD, center on casual comfort food.
LINKS
Town of La Plata – Official Website
La Plata MD – About La Plata
House Beautiful Magazine – Craftsman Style Homes